Loving
I am currently loving Monster Coffee Kona Blend. I wanted to get a coffee subscription for cold coffee, because I am a caffeine addict and I don't know how to function without at least 80% of my blood stream saturated with the stuff… and it's so yummy. It really gives me the boost that I need when I'm feeling a bit sluggish (See: I have two children who have insomnia just as bad as I do, and there's no escape from never sleeping.)
Reading
I'm reading a few different things. Recently, I've realized that I enjoy reading even more if I have 3 or 4 different books that I can flip through in different formats. I don't know why, but it makes me really happy.
The first thing that I'll talk about is Pet Semetary. I've been listening to this for a little bit now, and I have to say that I'm seriously enjoying it. I have the Audio Book version, and Michael C. Hall (See, Dexter Morgan) is reading it… and I have to say, he's doing a freaking phenomenal job, and it's making me listen to it slower than I usually do audio books, due to the fact that I haven't blasted him up to 2x speed so that my brain doesn't get bored with what I'm hearing. He's so good at the reading that I just want to listen to the voices and characters that he's creating.
Next up is The Shining, also by Stephen King. Are you seeing the trend here? I've recently started reading a lot of his novels, and I have to say that I'm getting addicted. He just has a way with his writing, words, stories and characters that is really intriguing me. I find myself wanting to dive into more and more of his works. I've been hitting the more popular ones so far, but I'm going to get into the lesser known things eventually, and I'm seriously looking forward to it.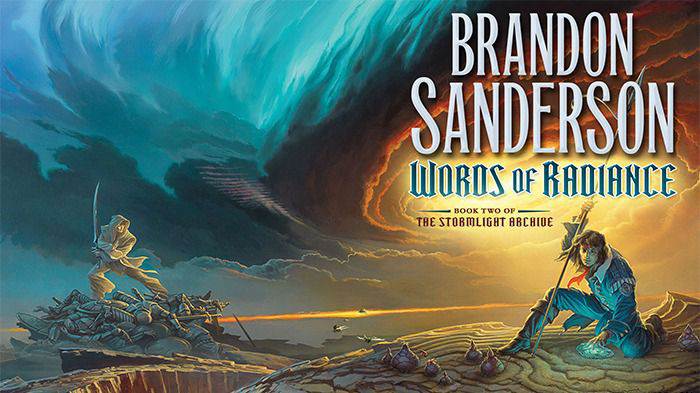 And then finally… Words of Radiance. I seriously can't with this. It gets its own blog post. This is the second book in the Stormlight Archive series, and it's honestly so beautifully and well written that I could die.
Watching
So, this isn't as easy to answer as other things. I've been watching CocoMelon and I have been watching Epic Rap Battle. I've been watching ABC Monsters… and occasionally, I've gotten to watch Kate Cavanaugh. My kids rule my television 99.9% of the time, and I spend most of my time doing my best to make sure that the things that they watch are educational.
On the off chance that I am allowed to pick what I'm watching and I don't have to be on youtube, I've been peeking at a lot of home renovation shows lately. It's a new guilty pleasure of mine, and one that I will indulge whenever I am given the chance. So, the current Jam is a show called Fixer Upers.
Love it. Love it. Love it.
Writing
Entirely too much? I'm doing MilWordy and I have a ton of projects going on. My Discord Group has about 20+ participating, so we're all honestly writing our little hearts out. I guess if you wanted to get technical, currently I am writing this blog. Ha. Honestly… I have 2 novels that I'm really prodding into the most. One is called Canceled, and is about a Narrator, and then one is called The Darkest Deep… and is about sea monsters and the end of the world?
I'm also diving back into RPing, and it's been so enjoyable to get words down with other people. There's something so appealing about the creativity that comes with spilling into a world with another person there with you. I love it. I really wasn't lying about currently writing this blog, though? I am going to to get blogs down at least every other day, because it helps with MilWordy words, and it's also just a good practice for me!
Listening To
What? I told you that my kids have an addiction. Ha. Other than that, I have actually been listening to the soundtrack for the movie Before I Fall a lot lately, because it fits a lot of the vibes of one of the books that I'm writing. My listening really varies a LOT though. I have a Spotify, and I have a playlist for every single book that I'm writing, and it ranges from classical to Veil of Maya, so.
Thinking About
Buying a house. My husband and I have been renting, and it's really time for us to just own something with a yard and a fence and a place where our kids can play… and a place where I can paint the walls whatever color I want and have a little mini library.
Hush. I have needs.
Anticipating
See above. Ha. There are a lot of things that I'm anticipating, though. I'm anticipating the cooler weather, I'm anticipating fall. I'm anticipating some day when I can go outside and play with my kids without masks. I'm anticipating this first month of MilWordy to be over, because I'm honestly ridiculously excited to see how everyone's stats are doing.
I'm also anticipating the next DLC for Borderlands 3, cause it's going to have my boy Kreig in it, and I wanna see how he's feeling.
As far as my writing goes, I'm really anticipating getting the first draft of these two novels finished. I have over 10k in each of them, so I'm getting into some of the really good stuff now that we're through the intro, and there's just always something so exciting about finishing a first draft. Hopefully by the end of MilWordy, I'll be drowning in a bunch of drafts I can work with.
Wishing
Gosh, it's a crazy wish… but I'm hoping that the world can change? The state of everything right now is wild — the state of how things have been for a long time is wild. I want to leave my kids in a world better than the one where I grew up, where equality is a real thing and people don't have to be afraid.
I'm wishing for a house.
I'm wishing for good words for the day.
I'm wishing for coffee.
I guess I'm just wishing for peacefulness?
Making Me Happy
My kids. My husband. My writing server. My family. Honestly, even though things are crazy right now, I have so many things to be thankful for. There are so many good people in my life, and there are so many people right now fighting for the change that I spoke of above. At the end of the day, having my one year old cuddle with me in my arms and my three year old falling asleep on my legs is pretty amazing.
Add to that a husband who works so hard to make sure we have an amazing life and supports me in all of my writing endeavors, no matter what.. well… my home life is pretty awesome.
My writing server is an absolute delight right now. We have so many people active and participating, and I can't wait to see how they do with their writing challenges this month and year!
I'd love to see you guys do a Currently post as well! Link back to me if you do!
Until next time, y'all!
Keep writing and writing, and keep being awesome!
Author Amanda McCormick
Instagram | Twitter | Facebook Page| NaNo Page | Tumblr | Blog Masterpost | My Writing Group |