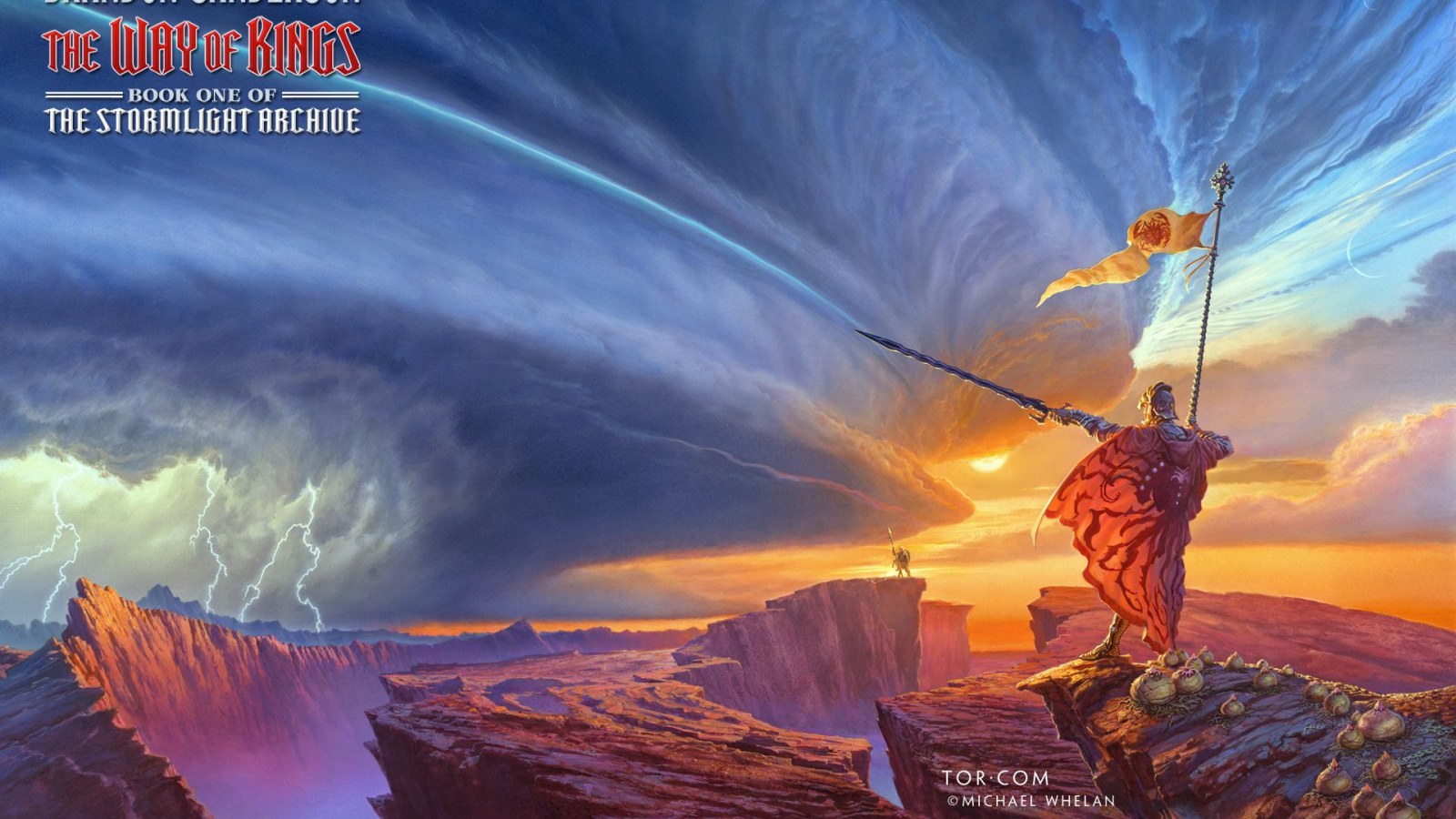 So, I'm trying to figure out how to do a book review on The Way Of Kings… tell you how amazing it is… and not give you any spoilers. It's actually a more difficult task than you could imagine. The book is over 1,000 pages, and it's honestly such an amazing ride. Obviously, you have to be a fan of Fantasy (And High Fantasy at that, though this is also Military Fantasy?) if you want to enjoy this (if you wanna try to get into that genre, pick it up!) It's a really intricately and just extraordinary written bit of literature.
Bit I say… because… again, it's over 1,000 words.
Chunk?
Honker?
Big honkin' piece of literature.
There we go, that's better.
My friend who introduced me to this book was like, "Uh, how would you give a brief description of it?" And… hmm… that's a good question.
To sum it up, my cheaty little butt is gonna go and get the quote from goodreads:
According to mythology mankind used to live in The Tranquiline Halls. Heaven. But then the Voidbringers assaulted and captured heaven, casting out God and men. Men took root on Roshar, the world of storms. And the Voidbringers followed…

They came against man ten thousand times. To help them cope, the Almighty gave men powerful suits of armor and mystical weapons, known as Shardblades. Led by ten angelic Heralds and ten orders of knights known as Radiants, mankind finally won.

Or so the legends say. Today, the only remnants of those supposed battles are the Shardblades, the possession of which makes a man nearly invincible on the battlefield. The entire world is at war with itself – and has been for centuries since the Radiants turned against mankind. Kings strive to win more Shardblades, each secretly wishing to be the one who will finally unite all of mankind under a single throne.

On a world scoured down to the rock by terrifying hurricanes that blow through every few day a young spearman forced into the army of a Shardbearer, led to war against an enemy he doesn't understand and doesn't really want to fight.

What happened deep in mankind's past?

Why did the Radiants turn against mankind, and what happened to the magic they used to wield?

Goodreads description for the novel.
So. You're following the story of three main characters, really. Shallan, Kaladin (KALADIN <3) and Dalinar. I really adore all of these characters, and I look at this book as two different things. First, it's an introduction to all three of them, as well as a few side characters that I'm fairly certain are going to be important later on…
And it's also really Kaladin's story. It's an amazing, colorful, just overwhelmingly wonderful story. I laughed, I cried, I felt inspired to write. That's really all that I can ask for as a reader.
I might actually do a spoiler-y review on my blog as well, because I feel like a lot of the things that I want to talk about in relation to this book are just full of things that would completely ruin the story for anyone who wanted to read it. So… if you want to keep an eye out for that.
Otherwise, know that this was a 5 star book for me; I would have given it more if I could have. The plot is amazing, the magic system is great, the creatures are fantastic, and the overall story that was built up in this book is going to be phenomenal to watch unfold.
I can't wait to read the next one.
Until next time, y'all!
Keep writing and writing, and keep being awesome!
Author Amanda McCormick
Instagram | Twitter | Facebook Page| NaNo Page | Tumblr | Blog Masterpost | My Writing Group |